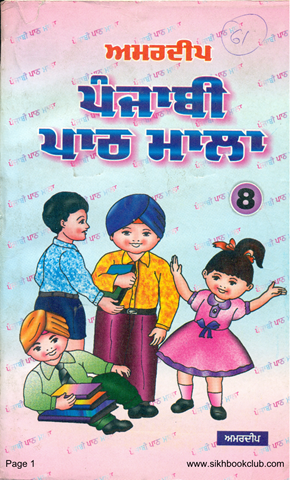 Amardeep Punjabi Paath Maala 8
Language : Punjabi
Total Download : 328
Share this Book.....
About Books
---
'Amardeep Punjabi Path Mala 8' includes poem, biography, travelogu
About Author
---
Gurdial Singh Phul was a distinguished Punjabi playwright and short story writer. With over 100 books in Punjabi to his credit, Phul has contributed to almost all genres on literature; but it is as a dramatist that he has made his mark. He has written some twenty full-length plays and 12 collections of one-act plays which include: Pita piyar, Adami di aqal, Joori, Bank, Ajkal, Dharti di awaz, Kambde dhaular. Collegiate, Kalyug rath agan ka, Oorak sachch rahin, Lajiya, Sabh kichh hoot upaiya, Sikhar Dopahare raat, Jhootha bazar, Kala tejindgi, Sach ki jeet (in Hindi), Doldi laat, Kanak da bhol, Nawin jot, Raat kat gai, Kahni karni, Kidhar jawan, Desh di khatir, etc.