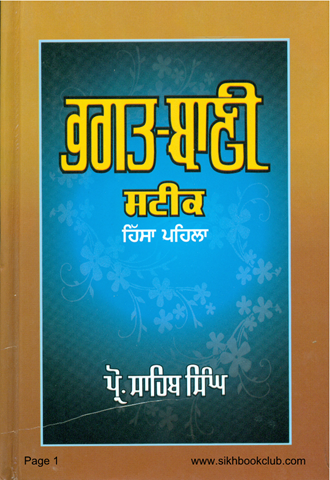 Bhagat Bani Steek Part 1
Language : Punjabi
Total Download : 938
Share this Book.....
About Books
---
The 5 volume series, Bhagat Bani Steek, is a compilation of Professor Sahib Singh's several years of toil, interpreting the philosophical meanings of the hymns of Guru Bhagat (followers) enshrined in Guru Granth Sahib. Published in 1959, the first part contains interpretations of hymns of 12 Bhagat, excluding Bhagat Namdev, Bhagat Kabeer and Bhagat Ravidas.
The Bani (hymns) of these followers epitomize the inclusiveness of the Adi Granth, wherein these found places are irrespective of the author's supposedly ambivalent social standings. Emerging as a response to the dogmatic practices of the institutionalized religion, these Bani (hymns) are characterized by their eternal love for the True Lord, which alone can erase the darkness of ignorance.
About Author
---
Professor Sahib Singh  was a Sikh academic who made a contribution to Sikh literature. He was a grammarian ,author,scholar and theologian.Prof.Sahib Singh wrote extensively in Punjabi,but most of his works have now been translated into other prominent languages,His Literary works include Savaiye Sri Mukhvak Maihla 5 ate Bhatta De Savaiye Steek (1930),Jap Ji Sahib Steek (1931) ,Asa Di Vaar Steek (1933),Sukhmani Sahib Steek (1939),Guru Granth Darpan.