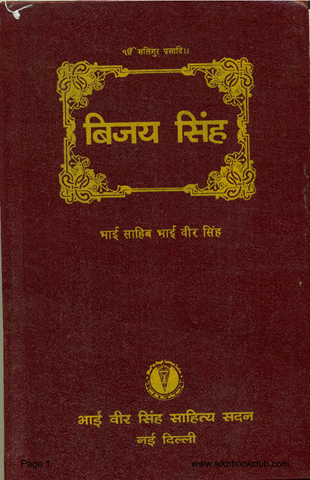 Bijay Singh
Language : Hindi
Total Download : 71
Share this Book.....
About Books
---
'Bijay Singh' the e-book available here is the story of the struggle of Bijay Singh and his wife to gain freedom from the Mughal absolutism rightfully penned down by Bhai Vir Singh and brought forth into the literary world in the year 1899  before another of his book 'Sundri' got published. Bhai Vir Singhji made a huge contribution to the Sikh culture and community to avoid it going into oblivion as a result of the younger generation was hardly alert to the sacrifices created by the reverend gurus to keep the Khalsa  ideals intact to a big extent. The Sikh Gurus and reverends fought with the Mughal tyranny to prevent its suppression of innocent Sikh those who were non secular and stuck to their roots and rejected the demand of the rulers to convert their faith.
Bhai Vir Singh created this literary version in his own language Punjabi. This book is about the life of Bijay Singh who was the son of courtier Diwan Lakhpat Rai, who took Sikhism as his faith and was stuck to the Khalsa ideals. Bijay Singh even had to go away and leave his house together with his families when many of his relatives objected to Sikhism.
Bijay Singh fought with barbaric Nazir-ud-din, the governor of Jalandhar, and laid  down his life for the respect of the faith and protection of his fellow men and women. Bijay Singh and his other troop fought to end the tortures inflicted on innocent folks of the Sikh community by the barbaric Nazir-ud-din, the governor of Jalandhar. The ending of the story is dramatic with Bijay Singh's retrospection which was recited by him when he left this world- "Blessed is that the Lord of great (Guru Gobind Singh) and blessed is that the holy SANGAT (Holy Assembly) Blessed Blessed Blessed."