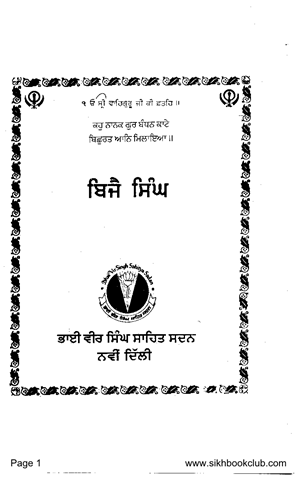 Bijay Singh
Language : Punjabi
Total Download : 283
Share this Book.....
About Books
---
'Bijay Singh', the story of the ultimate struggle for freedom from the Mughal dictatorship by Bijay Singh and his wife Sheel Kaur was put into words by Bhai Vir Singh and brought forth into the world in the year 1899 just a year after 'Sundri' was published. Bhai Vir Singhji made an immense contribution to the Sikh culture and community to avoid it going into obliviousness because the younger generation was hardly aware of the sacrifices made by the reverend gurus to keep the Khalsa ideals intact to a large extent. The Sikh Gurus and reverends fought with the Mughal tyranny to stop its suppression of innocent Sikh people who were religious and stuck to their roots and rejected the demand of the rulers to convert their religion.
Bhai Vir Singh created this literary version in his own native language Punjabi, which was then translated in English with the unique contribution of Shri Devinder Singh Dugaal, who made his contribution to the moral regeneration of the Sikh youth. In this translated version of the e-book we come to know about the life of Bijay Singh, son of Courtier Diwan Lakhpat Rai, who took Sikhism as his religion and was stuck to the Khalsa ideals for which he even had to leave his house with his wife as other families objected to his decision.
Bijay Singh fought with barbaric Nazir-ud-din, the governor of Jalandhar, and laid down his life for the honor of the religion and protection of his fellow men and women. Bijay Singh and others in his troop fought to end the tortures inflicted on innocent people of the Sikh community by the barbaric Nazir-ud-din, the governor of Jalandhar. The ending of the story is dramatic with Bijay Singh's retrospection of the fact as recited by him in his painstaking moment, leading to his heavenly abode- "Blessed is the Lord of aigrette (Guru Gobind Singh) and blessed is the holy SANGAT (Holy Assembly) Blessed Blessed Blessed."
About Author
---
Bhai Vir Singh is regarded as the founder and creator of Punjabi Literature and was a revered writer and poet known for his spiritual literary work in particular. He was born into a Sikh traditional family on 5th December 1872 in Amritsar. His creative works involve the "Shri Guru Nanak Chamatkar" depicting the influence of Guru Nanak Devji in ordinary people's lives. He reoriented the Sikh faith and assimilated different modernizing influences and made it go in unity with the Sikh rich history and cultural heritage. His Literary geniuses include, Shri Guru Kalgidhar Chamatkar, Bijay Singh and Satwant Kaur. One can also look into his historical collections with books like Sri Guru Nanak Chamatkar and Sri Asht Guroo Chamatkar etc. His later contributions do not need any introduction as he wrote several books on Gurbani, the lives of the Sikh Gurus and other religious figures. He made an impression with books like Subhagji da Sudhar Hathin Baba Naudh Singh, popularly known as Baba Naudh Singh. His short poems include books like Dil Tarang (1920), Tarel Tupke (1921), Lahiran de Har (1921), Matak Hulare (1922), Bijlian de Har (1927) and Mere Sayian Jio (1953). This then showed the way and led to the emergence of Punjabi poetry. His creative work and poetry made him so popular that he was declared as Bhai, the brother of the Sikh order, very early in his career for his true contribution in spreading Sikhism.