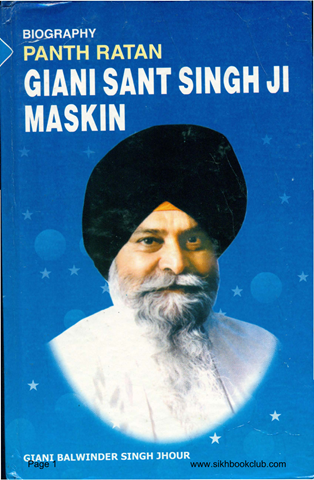 Biography of Panth Ratan Giani Sant Singh Ji Maskeen
Language : English
Total Download : 620
Share this Book.....
About Books
---
To preserve a notable something holds an importance in one's life and if it is of someone who inspires the later generations then it is worthy of its existence. The biography of Giani Sant Singhji Maskeen is of such a stature. Biography is a literary form with its own distinct place. It is worthy when we would like to know more on an eminent personality knowing about him more deeply, looking into his life and his contribution to the society, his teachings and how he used to inspire people. This biography of Bhai Sahib Maskeenji has been preserved for posterity. Bhai Balwinder Singh Jhour who in spite of living far off in Canada from his native place conceptualized this biography with utmost precision and austerity wrote a name that has become an institution in itself. The ideas of the Gurmat and the teachings of Guru Granth Sahib as told by Panth Ratan Gaini Maskeen ji is translated by a Gursikh lady who has wished to stay anonymous with her benevolent and appreciative work.
About Author
---
Giani Sant Singh Ji Maskeen was born in 1934 at Pakistan to father Kartar Singh and mother Ram Kaur. He authored more than a dozen books. Some of his famous books includes Guru Chintan, Ras Dhara, Amrit Manthan, Ratnagar and Shabad Guru.He was given the title of Panth Ratan for his services to mankind through the message of Gurbani.