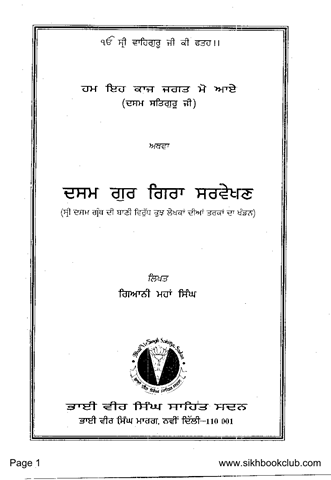 Dasam Gur Gira Survekhan
Language : Punjabi
Total Download : 352
Share this Book.....
About Books
---
'Dasam Gur Gira Survekhan' book has texts on the attack on Dasam Granth Bani by certain writers. Sixty five years ago the head of Singh Sabha Bashod criticized Guru Gobind Singh Ji's (Bani) Dasam Granth, like "De Shiva Bar Mohe' and 'Pritam Bagoti Simer Ke' etc.This book was written by Giani Maha Singh and published by Bhai Vir Singh Sahitya Sedan in 1977. Teja Singh Bhasod was the first person who had written against Dasam Granth. He had written against Dasam Granth and some against Adi Granth's Bani Namdev's Bani and Bhatt Bani etc.. He was leader of Panch Khalsa Diwan.
But further re-examinations and reviews took place in 1931, under the aegis of The Darbar Sahib Committee of the Shiromani Gurdwara Prabandhak Committee. It indicated the earlier conclusions and published its findings in a book. Akal Takhat took strict action against them, by excommunicating many and organize various seminars with other Sikh organizations, where they proved that the whole Dasam Granth is Bani of Guru Gobind Singh.
Then the controversy continues, as there is a reluctance among some modern day preachers to fully accept the entire text of the Dasam Granth. Therefore, scholars appealed to Baba Virsa Singh, a highly revered spiritual teacher of Sikh background, to gather scholars to clarify the doubts about the Dasam Granth. A seminar was held on January 3rd and 4th, 1999, at the Gobind Sadan Institute in New Delhi India. On February 20th, 2000, at Gobind Sadan, Baba Virsa Singh confirmed the Dasam Granth in its entirety as the Guru's work and released the first complete Punjabi translation of the writings of Guru Gobind Singh, plus other scholarly works about the life and teachings of Guru Gobind Singh.
About Author
---
Bhai Vir Singh is regarded as the founder and creator of Punjabi Literature and was a revered writer and poet known for his spiritual literary work in particular. He was born into a Sikh traditional family on 5th December 1872 in Amritsar. His creative works involve the "Shri Guru Nanak Chamatkar" depicting the influence of Guru Nanak Devji in ordinary people's lives. He reoriented the Sikh faith and assimilated different modernizing influences and made it go in unity with the Sikh rich history and cultural heritage. His Literary geniuses include, Shri Guru Kalgidhar Chamatkar, Bijay Singh and Satwant Kaur. One can also look into his historical collections with books like Sri Guru Nanak Chamatkar and Sri Asht Guroo Chamatkar etc. His later contributions do not need any introduction as he wrote several books on Gurbani, the lives of the Sikh Gurus and other religious figures. He made an impression with books like Subhagji da Sudhar Hathin Baba Naudh Singh, popularly known as Baba Naudh Singh. His short poems include books like Dil Tarang (1920), Tarel Tupke (1921), Lahiran de Har (1921), Matak Hulare (1922), Bijlian de Har (1927) and Mere Sayian Jio (1953). This then showed the way and led to the emergence of Punjabi poetry. His creative work and poetry made him so popular that he was declared as Bhai, the brother of the Sikh order, very early in his career for his true contribution in spreading Sikhism.