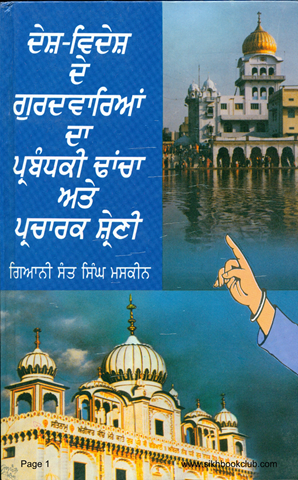 Desh Videsh De Gurdwarian Da Prabandhaki Dhancha Ate Pracharak Shreni
Language : Punjabi
Total Download : 743
Share this Book.....
About Books
---
Coming out at a time, when the community consciousness is increasingly getting mired in petty politics and myopic interests of its religious administrators, further bolstered by its religious preacher's apathy, this book, published in 1999, was a much needed initiative by the Sikh's leading visionary 'Maskeen' ji to shed light on the ills plaguing the functioning of Gurdwaras.
Drawing upon his 40 years of experience in preaching moral and religious thought in Gurdwaras world over, he rues the absence of a unified preaching line that he believes is responsible for the decay in Gurmat principles among followers, thus leading to the emergence of sectional self-styled God men, among the community. Tackling the issues objectively, 'Maskeen' ji in this book lays down a certain vision for the reinvigoration and reformation of Sikhism, while placing the burden on both the religious administrators as well as its believers. Follow it at sikhbookclub.com
About Author
---
Giani Sant Singh Ji Maskeen was born in 1934 at Pakistan to father Kartar Singh and mother Ram Kaur. He authored more than a dozen books. Some of his famous books includes Guru Chintan, Ras Dhara, Amrit Manthan, Ratnagar and Shabad Guru.He was given the title of Panth Ratan for his services to mankind through the message of Gurbani.
Review
---
Waheguru ji ka khalsa Waheguru ji ki fateh. This is a must read book for every panth dardi. By guru maharaj`s kirpa audio book of this book will soon be available at mahapurakh.com. Please read/ listen and share this book. Thanks to Sikh book club for their contribution.

By Jagpreet Singj on 4/23/2019

Waheguru ji ka khalsa Waheguru ji ki fateh. This is a must read book for every panth dardi. By guru maharaj`s kirpa audio book of this book will soon be available at mahapurakh.com. Please read/ listen and share this book. Thanks to Sikh book club for their contribution.

By Jagpreet Singj on 4/23/2019