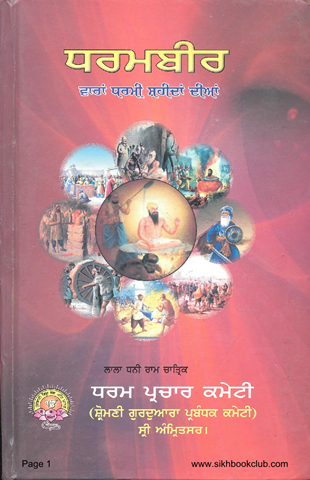 Dharamveer
Language : Punjabi
Total Download : 235
Share this Book.....
About Books
---
Lala Dhaniram Chatrik is a well known name in the world of Punjabi literature. This book 'Dharamveer' is just another dedication for the martyrdom of Sikh's gurus. Written in poetics, this book tries to assimilate each and every drop of blood shed for the struggle against freedom, freedom to follow Sikhism. It starts with Guru Arjun Dev Ji, the fifth guru of Sikhs. It then follows Guru Teg Bahadur, Bhai Mati Ram and the list of Martyrs goes on. The book ends with a very beautiful message with the help of two instances: 1. Taken from Mahabharata 2. From the Guru Gobind Singh ji's life. Both focused on the importance of 'Dharma' in one's life.
About Author
---
Dhani Ram Chatrik is considered the founder of modern Punjabi poetry.He worked all his life to lift the status of the Punjabi language. He was the founding president of Punjabi Sabha, a Punjabi Literary Society.He was the first person to standardize the typeset for Gurmukhi script, publish Guru Granth Sahib and Bhai Kahn Singh's Mahan Kosh, the first Punjabi dictionary by using modern technique.