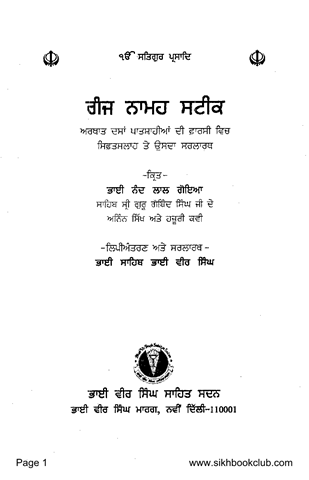 Ganj Namah Steek
Language : Punjabi
Total Download : 672
Share this Book.....
About Books
---
'Ganj Namah Steek' (Treasure Book), by Bhai Nand Lal Goya is a book in Persian, which is half poetry and half of it is in prose form written and composed in the honor of the Ten Gurus. Bhai Nand Lal was a respected Sikh of the time of Guru Gobind Singh and a distinguished writer. Bhai Vir Singh translated this book into Punjabi language and this book was published in 1914. The Ganj Namah Steek renders respect to the Gurus whom the poet remembers, has deep devotion and adoration.
In this book Bhai Vir Singh Ji narrates about the life of Guru Gobind Singh Ji. The opening eleven couplets are an invocation to the Guru who raises men to the level of gods, to whom all gods and goddesses are slaves and there is only darkness in the world. The Ganj Namah Steek followed by ten sections, each of which is devoted to one of the ten Gurus of the Sikhs. Each section has two subsections, a paragraph or two in prose followed by a series of couplets. The number of couplets in different sections varies from four on Guru Amar Das to fifty-six on Guru Gobind Singh. The book concludes with the poet Bhai Nand Lal's humble supplication to Guru Gobind Singh that his life may be dedicated to the Guru that he may forever remain attached to his feet.
When Bhai Nand Lal Goya's oldsters died then he moved to Multan and served in high positions with the native Governor. Later he moved to Agra to serve Prince Mu-Azzam who was the son of Emperor Aurangzeb. On sensing that he soon will be asked to convert to Islam by the emperor, he left and went to stay in Anandpur Sahib. Bhai Nand Lal was greatly influenced by Guru Gobind Singh Ji's personality that he stayed there for a number of years and wrote a number of works in Persian and other languages. He wrote many Persian books and one of these is Ganj Namah steak. Ganj name is written in Persian verse in praise of the ten Gurus. There is a total of 160 verses in it. Verses 104 to 160 are in praise of Guru Gobind Singh Ji.
About Author
---
Bhai Vir Singh is regarded as the founder and creator of Punjabi Literature and was a revered writer and poet known for his spiritual literary work in particular. He was born into a Sikh traditional family on 5th December 1872 in Amritsar. His creative works involve the "Shri Guru Nanak Chamatkar" depicting the influence of Guru Nanak Devji in ordinary people's lives. He reoriented the Sikh faith and assimilated different modernizing influences and made it go in unity with the Sikh rich history and cultural heritage. His Literary geniuses include, Shri Guru Kalgidhar Chamatkar, Bijay Singh and Satwant Kaur. One can also look into his historical collections with books like Sri Guru Nanak Chamatkar and Sri Asht Guroo Chamatkar etc. His later contributions do not need any introduction as he wrote several books on Gurbani, the lives of the Sikh Gurus and other religious figures. He made an impression with books like Subhagji da Sudhar Hathin Baba Naudh Singh, popularly known as Baba Naudh Singh. His short poems include books like Dil Tarang (1920), Tarel Tupke (1921), Lahiran de Har (1921), Matak Hulare (1922), Bijlian de Har (1927) and Mere Sayian Jio (1953). This then showed the way and led to the emergence of Punjabi poetry. His creative work and poetry made him so popular that he was declared as Bhai, the brother of the Sikh order, very early in his career for his true contribution in spreading Sikhism.