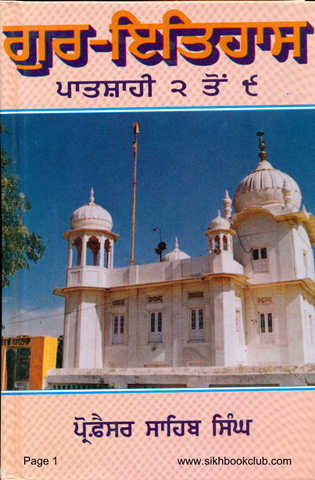 Gur Itihas Pathshahi 2 to 9
Language : Punjabi
Total Download : 1272
Share this Book.....
About Books
---
As the title itself suggests, Gur Itihas is a work of great historical value, chronicling the lives and teachings of nine Sikh Gurus, from Guru Angad Dev Ji to Guru Tegh Bahadur Ji. Though outwardly a work in history, it would be wrong to confine Gur Itihas as only a history textbook, as it is also a template of how a life on a virtuous path is to be led.
The lives of the Gurus are not merely tales to be read, but a bag full of teachings that are found in their practical experiences. A treasure trove of spiritual values, Prof Sahib Singh beautifully gives the readers a morally enriching experience through the lives stories of the Gurus. Satisfy your soul at sikhbookclub.com!
About Author
---
Professor Sahib Singh  was a Sikh academic who made a contribution to Sikh literature. He was a grammarian ,author,scholar and theologian.Prof.Sahib Singh wrote extensively in Punjabi,but most of his works have now been translated into other prominent languages,His Literary works include Savaiye Sri Mukhvak Maihla 5 ate Bhatta De Savaiye Steek (1930),Jap Ji Sahib Steek (1931) ,Asa Di Vaar Steek (1933),Sukhmani Sahib Steek (1939),Guru Granth Darpan.