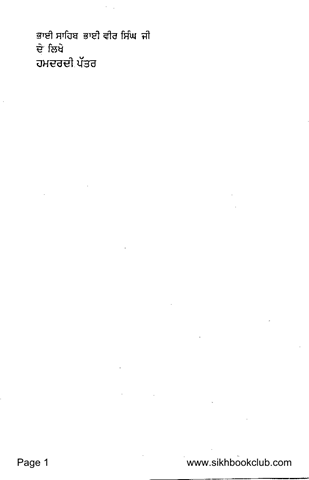 Hamdardi Pattar
Language : Punjabi
Total Download : 114
Share this Book.....
About Books
---
"Hamdardi Pattar"a great book of Bhai Vir Singh is about a collection of letters written by Bhai Vir Singh to comfort those who had lost their near and dear ones. The letter reveals the great depth of his wisdom and philosophy, of his understanding and sense of humanity, all which enabled him to give strength and solace to those who were in need of comfort. This book was published in 1984 by Bhai Vir Singh Sahitya Sadan. This Book shows the personality of Bhai VIr Singh, who was a rare personality, unique in many ways, whose presence gave a great sense of serenity, a quality which he seemed to radiate.
The book tells us about two letters in Bhai Vir Singh's hand writing. These letters are the main part of Punjabi literature and explain the Gurmat views. When any sorrowful and joyful incident happens, then Bhai Vir Singh writes a letter and shows his feelings. Bibi Tej Kaur kept his letter intact in a file. He started his letter with "Waheguru Ji Ka Khalsa and Wahe Guru Ji ki Fateh" and ended it with-"your loving Vir Singh". The letter shows that Bhai Sahib was very close to his family, relative and friends. This collection of letter will be great value to all who want to read them. Each letter contains the essence of Bhai Vir Singh Ji's teaching and philosophy and his great sense and humanity.
About Author
---
Bhai Vir Singh is regarded as the founder and creator of Punjabi Literature and was a revered writer and poet known for his spiritual literary work in particular. He was born into a Sikh traditional family on 5th December 1872 in Amritsar. His creative works involve the "Shri Guru Nanak Chamatkar" depicting the influence of Guru Nanak Devji in ordinary people's lives. He reoriented the Sikh faith and assimilated different modernizing influences and made it go in unity with the Sikh rich history and cultural heritage. His Literary geniuses include, Shri Guru Kalgidhar Chamatkar, Bijay Singh and Satwant Kaur. One can also look into his historical collections with books like Sri Guru Nanak Chamatkar and Sri Asht Guroo Chamatkar etc. His later contributions do not need any introduction as he wrote several books on Gurbani, the lives of the Sikh Gurus and other religious figures. He made an impression with books like Subhagji da Sudhar Hathin Baba Naudh Singh, popularly known as Baba Naudh Singh. His short poems include books like Dil Tarang (1920), Tarel Tupke (1921), Lahiran de Har (1921), Matak Hulare (1922), Bijlian de Har (1927) and Mere Sayian Jio (1953). This then showed the way and led to the emergence of Punjabi poetry. His creative work and poetry made him so popular that he was declared as Bhai, the brother of the Sikh order, very early in his career for his true contribution in spreading Sikhism.