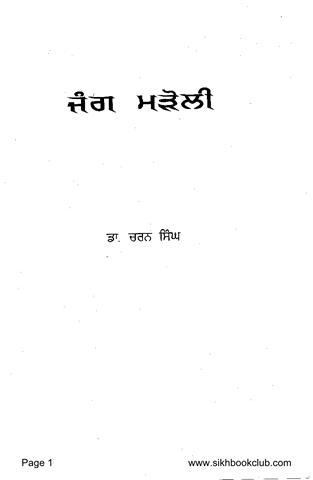 Jang Marholi
Language : Punjabi
Total Download : 364
Share this Book.....
About Books
---
jang marholi teach us we should shun five evils which leads to illusion ( maya) which eventually acts as roadblock towards attainment of salvation. The five evils are Ego, Anger, Greed, Attachment and Lust.
About Author
---
Dr.Charan Singh was a poet and musicologist.He studied Sanskrit, Braj, Persian and prosody. Among his several works, Charan Singh`s Atal Prakash is a versified account of Baba Atal Rai`s life, and the Dasam Gur Charitra, a vignette of Guru Gobind Singh. His Gurmat Sangeet Nirnaya is a work on the ragas or musical measures employed in the Guru Granth Sahib.Shri Guru Granth Bani Beora explains the titles of compositions comprising the Guru Granth Sahib, and furnishes information about the verse forms and the rag"as or musical measures employed, with details of compositions in each raga as well as of the individual contribution of each of the Gurus and bhaktas.
Review
---
CLASSIC

By Ranjeet Singh on 2/3/2017