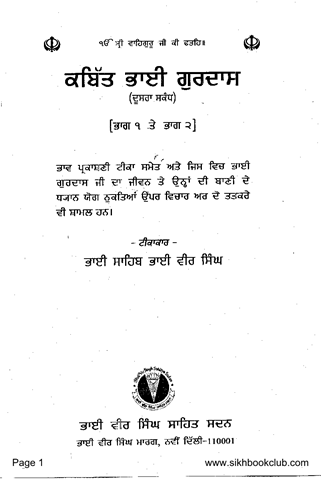 Kabit Bhai Gurdas Part 1 and 2
Language : Punjabi
Total Download : 750
Share this Book.....
About Books
---
Originally written by Bhai Vir Singh in 1940, this is the seventh edition of 'Kabit Bhai Gurdas' which was published in 2009. The book is divided into two parts, wherein the first part acquaints the reader with the life story of Bhai Gurdas, before delving into the meanings of the beautiful verses, as explained in the second part. Written at a time when Bhai Gurdas ji was in Banaras, away from his Guru, the verses beautifully encapsulate his longing and pain of separation (birha) as an underlying emotion.
Bhai Gurdas was a known interpreter of Gurbani and Sikh literature. As a poet, he mastered Punjabi, Sanskrit, Braj Bhasha and Persian. He wrote Kabit (a form of poetry) in Braj. But his greatest contribution to Sikh Literature was in the role of a scribe, helping Guru Arjan Dev compile the Adi Granth, tediously writing for 19 years under Guru Arjan's dictation, and also supervising other scribes working on other Sikh scriptures, namely, Bhai Sukha, Bhai Sant Das, Bhai Manasa Ram, and Bhai Haria. Today, a total of 675 verses of Kabit are known to have been written by him. Originally, verses till 556 were known, but after new discoveries in the 1930's, it was later established that some other verses later found were also works of Bhai Gurdas.
In this book, meanings of only the later found verses are published, as Bhai Vir Singh's analysis of original Kabit from 1 to 556 seem to have been lost. Download the e-book from the link given below.
About Author
---
Bhai Vir Singh is regarded as the founder and creator of Punjabi Literature and was a revered writer and poet known for his spiritual literary work in particular. He was born into a Sikh traditional family on 5th December 1872 in Amritsar. His creative works involve the "Shri Guru Nanak Chamatkar" depicting the influence of Guru Nanak Devji in ordinary people's lives. He reoriented the Sikh faith and assimilated different modernizing influences and made it go in unity with the Sikh rich history and cultural heritage. His Literary geniuses include, Shri Guru Kalgidhar Chamatkar, Bijay Singh and Satwant Kaur. One can also look into his historical collections with books like Sri Guru Nanak Chamatkar and Sri Asht Guroo Chamatkar etc. His later contributions do not need any introduction as he wrote several books on Gurbani, the lives of the Sikh Gurus and other religious figures. He made an impression with books like Subhagji da Sudhar Hathin Baba Naudh Singh, popularly known as Baba Naudh Singh. His short poems include books like Dil Tarang (1920), Tarel Tupke (1921), Lahiran de Har (1921), Matak Hulare (1922), Bijlian de Har (1927) and Mere Sayian Jio (1953). This then showed the way and led to the emergence of Punjabi poetry. His creative work and poetry made him so popular that he was declared as Bhai, the brother of the Sikh order, very early in his career for his true contribution in spreading Sikhism.