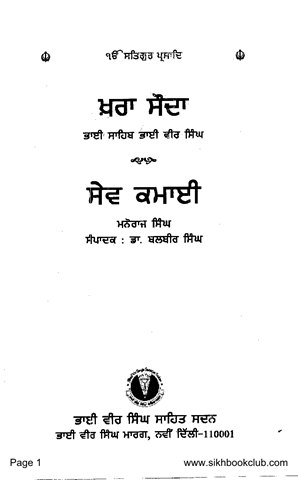 Khara Sauda
Language : Punjabi
Total Download : 332
Share this Book.....
About Books
---
Khara Sauda and Sev Kamai was authored by Bhai Vir Singh and S. Manoraj Singh Ji. The book saw the light of day in the year 1923. Khara Sauda also mean Sacha Sauda and in English it means true business and the meaning of Sev Kamai  is safe income. Bhai Vir Singh Ji describe the story of revered Guru Nanak Dev Ji. When Guru Ji's father sent him to do some business and gave twenty rupees. Guru Ji ran to some saints who were hungry for days and he spent the money on feeding and giving them clothes. Upon returning from after feeding the Saints, Guru Ji's father asked him about what business he had done. Guru Ji's replied that he did 'Sacha Sauda' (True business) where he fed the hungry saints.
Sev Kamai was the biography of Bhai Manoraj Singh. Bhai Sahib belonged to the hindu family but his parents wanted him to become a Sikh so Bhai Sahib worshipped the Sikh Gurus. In this Biography Bhai Manoraj Singh met a 'Fakir' beggar in night and  told the story about a Bhai Kahniaya Ji who was the nicest person in the world. He was serving  water to anyone who was thirsty in the battle of Anandpur Sahib in 1704. He did this Sewa (Service) with love and affection without any discrimination between the Guru's Sikh soldiers and the Mughal army's soldiers. Some Sikh complained to Guru Gobind Singh Ji, pointing out that Bhai Kanhaiya Ji was serving water to the wounded soldiers from the enemy camp. Guruji said, "These brave Sikhs are saying that you go and feed water to the enemy and they recover to fight them again – Is this true?"
Bhai Kanhaiya Ji replied "Yes, my Guru, what they say is true. But Maharaj, I saw no Mughal or Sikh on the battlefield. I only saw human beings. And, ... Guru Ji, .. They all have the same God's Spirit? – Guru Ji, have you not taught us to treat all God's people as  the same?" SoFakir said to Bhai Sahib This Sav Kamai of Bhai  Kanhaiya Ji.
About Author
---
Bhai Vir Singh is regarded as the founder and creator of Punjabi Literature and was a revered writer and poet known for his spiritual literary work in particular. He was born into a Sikh traditional family on 5th December 1872 in Amritsar. His creative works involve the "Shri Guru Nanak Chamatkar" depicting the influence of Guru Nanak Devji in ordinary people's lives. He reoriented the Sikh faith and assimilated different modernizing influences and made it go in unity with the Sikh rich history and cultural heritage. His Literary geniuses include, Shri Guru Kalgidhar Chamatkar, Bijay Singh and Satwant Kaur. One can also look into his historical collections with books like Sri Guru Nanak Chamatkar and Sri Asht Guroo Chamatkar etc. His later contributions do not need any introduction as he wrote several books on Gurbani, the lives of the Sikh Gurus and other religious figures. He made an impression with books like Subhagji da Sudhar Hathin Baba Naudh Singh, popularly known as Baba Naudh Singh. His short poems include books like Dil Tarang (1920), Tarel Tupke (1921), Lahiran de Har (1921), Matak Hulare (1922), Bijlian de Har (1927) and Mere Sayian Jio (1953). This then showed the way and led to the emergence of Punjabi poetry. His creative work and poetry made him so popular that he was declared as Bhai, the brother of the Sikh order, very early in his career for his true contribution in spreading Sikhism.