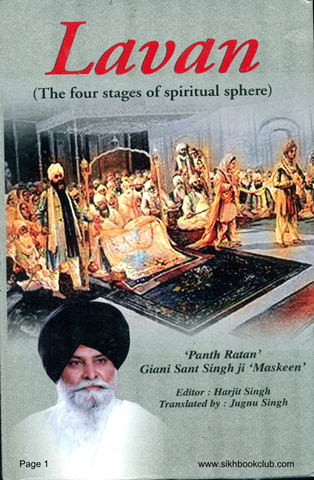 Lavan
Language : English
Total Download : 384
Share this Book.....
About Books
---
Delivered in the form of archetypal Maskeen ji style of anecdotal narrations, days before his heavenly departure, 'Lavan: Adhiatmak Mandal de Chaar Padaa' talks about the four stages of spiritual sphere that a soul has to traverse en route towards his unison with the True Lord, through the symbolism of four rounds of a Sikh Marriage (Anand Karaj).
Lavan was composed by Guru Ram Das for the occasion of his own wedding to Bibi Bhani. He saw a parallel between the material journey of a man and a woman in wedlock and the symbolic journey of the human soul that is thirsting to become one with his beloved. Recited at the time of Anand Karaj, It is to remind the soon to be married couple that the sphere they are about to enter is only a sphere of duties, and ultimate purpose of human soul is to independently and together seek merger with the True One.
About Author
---
Giani Sant Singh Ji Maskeen was born in 1934 at Pakistan to father Kartar Singh and mother Ram Kaur. He authored more than a dozen books. Some of his famous books includes Guru Chintan, Ras Dhara, Amrit Manthan, Ratnagar and Shabad Guru.He was given the title of Panth Ratan for his services to mankind through the message of Gurbani.