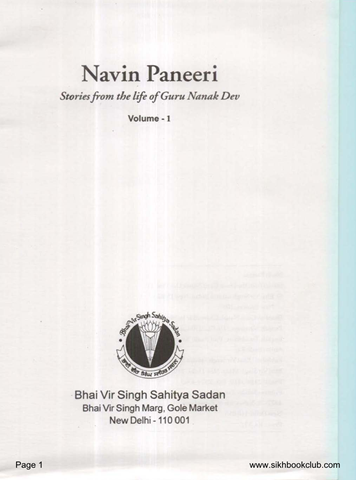 Navin Paniri Guru Nanak Dev Ji Part 1
Language : English
Total Download : 212
Share this Book.....
About Books
---
'Naveen Paneeri: Guru Nanak Devji'is a pictorial presentation of various significant life episodes of the first Guru, reverend Guru Nanak Devji in the form of a book and now available to internet users in the form of a compilation into an e-book. The book went for publication after the diligent work done by Bhai Vir Singhji which was based on his prior work and writing as in 'Guru Nanak Chamatkar'. The English translations are done by Prof. Surjit Singh Chawla.
Guru Nanak Devji was born in 1469 AD in town Rai Bhoi's Talwandi to mother Tripta and Mehta Kalu Ram. The house of Mehta Kalu Ram which is also the birthplace of the Guru was later and till today has been maintained as  a Gurudwara came to be known as 'Gurdwara Janam Sthan' and now as the most famous and pious 'Nankana Sahib'. Guru's Nanak Dev's childhood was known as one which was witness to many miracles performed by the Guru even at his tender age.
Five other Gurudwaras (Holy place of worship for Sikhs) laid the foundation inside the Nankana Sahib in the memory of beloved Guru Nanak Dev Ji, they were known as 1) Gurdwara Kiara Sahib, 2) Gurdwara Tambu Sahib 3) Gurdwara Palli Sahib 4) Gurdwara Bat Lila 5) Gurdwara Mal Ji Sahib.
The Guru as a newborn child had a radiance on his face and whosoever came to see the child felt happy and rejuvenated. Unlike other newborns Nanak Devji arrived in the world with a smile on his face. He was very different from the other babies of his age. When Pandit Har Dayal came to cast the newborn's horoscope he was amazed by looking at the position of the stars and vital statistics of the baby. The Pundit acclaimed "This child is not an ordinary child but is a godsend of this earth, a messenger of the Almighty to show the path of holiness. The pundit even bowed down and saluted the child.
The book contains several such surprises for the readers who go through the other chapters depicting different phases of Guru Nanak Dev's life. The Guru led a charming childhood, astonishing people with his knowledgeable talks. He knew many things that children of his age didn't know. He could read Persian on the very first day of his class with his Persian mentor. He was therefore referred to as the Very Light of God. These and several other topics take us deep within the spiritual life of Guru Nanak Devji.
About Author
---
Bhai Vir Singh is regarded as the founder and creator of Punjabi Literature and was a revered writer and poet known for his spiritual literary work in particular. He was born into a Sikh traditional family on 5th December 1872 in Amritsar. His creative works involve the "Shri Guru Nanak Chamatkar" depicting the influence of Guru Nanak Devji in ordinary people's lives. He reoriented the Sikh faith and assimilated different modernizing influences and made it go in unity with the Sikh rich history and cultural heritage. His Literary geniuses include, Shri Guru Kalgidhar Chamatkar, Bijay Singh and Satwant Kaur. One can also look into his historical collections with books like Sri Guru Nanak Chamatkar and Sri Asht Guroo Chamatkar etc. His later contributions do not need any introduction as he wrote several books on Gurbani, the lives of the Sikh Gurus and other religious figures. He made an impression with books like Subhagji da Sudhar Hathin Baba Naudh Singh, popularly known as Baba Naudh Singh. His short poems include books like Dil Tarang (1920), Tarel Tupke (1921), Lahiran de Har (1921), Matak Hulare (1922), Bijlian de Har (1927) and Mere Sayian Jio (1953). This then showed the way and led to the emergence of Punjabi poetry. His creative work and poetry made him so popular that he was declared as Bhai, the brother of the Sikh order, very early in his career for his true contribution in spreading Sikhism.