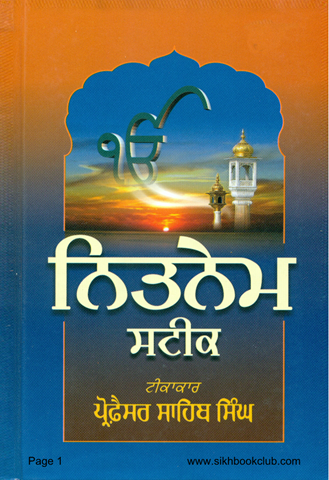 Nitnem Steek
Book ID : 2109
Language : Punjabi
Total Download : 2228
Share this Book.....
About Book
---
Published posthumously in 1979 by the initiatives of Prof Sahib Singh's lifelong publishers, Nitnem Steek has been compiled into this integrated form out of separate interpretations of hymns of Nitnem for the benefit of his readers.
Nitnem is comprised of five compulsory hymns that a Sikh Believer is advised to practice every day, but it is more important to understand the teachings of Nitnem to lead a meaningful life. It is at this point that an able interpretation of the Bani helps the inquisitive mind. Clubbed with an insightful foreword by Bhai Joginder Singh Talwara, the book is a must read, at sikhbookclub.com
About Author
---
Professor Sahib Singh  was a Sikh academic who made a contribution to Sikh literature. He was a grammarian ,author,scholar and theologian.Prof.Sahib Singh wrote extensively in Punjabi,but most of his works have now been translated into other prominent languages,His Literary works include Savaiye Sri Mukhvak Maihla 5 ate Bhatta De Savaiye Steek (1930),Jap Ji Sahib Steek (1931) ,Asa Di Vaar Steek (1933),Sukhmani Sahib Steek (1939),Guru Granth Darpan.