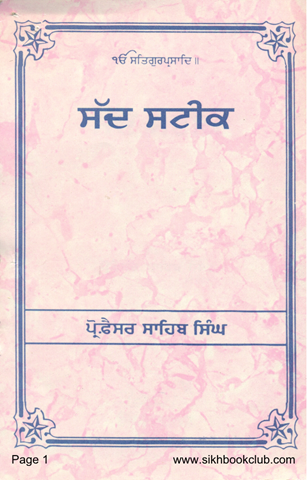 Sadd Steek
Language : Punjabi
Total Download : 226
Share this Book.....
About Books
---
Amrit press first published Prof Sahib Singh's tract 'Rabbi Sadda' in 1935, which later went on to form the basis of this book 'Sadd Steek'. 'Sadd', written by Baba Sundar Singh, is inscribed in Guru Granth Sahib describing the philosophical meanings of death, and the promises of life in the Lord's embrace hidden in it.
It is only through understanding cycle of life and death that a person can aspire to free him of the bondages of this humanly abode. In this book, Prof. Sahib Singh interprets the Bani, which holds not only the secrets of this life cycle, but also the rituals to be performed at the time of soul's departure from this world.
About Author
---
Professor Sahib Singh  was a Sikh academic who made a contribution to Sikh literature. He was a grammarian ,author,scholar and theologian.Prof.Sahib Singh wrote extensively in Punjabi,but most of his works have now been translated into other prominent languages,His Literary works include Savaiye Sri Mukhvak Maihla 5 ate Bhatta De Savaiye Steek (1930),Jap Ji Sahib Steek (1931) ,Asa Di Vaar Steek (1933),Sukhmani Sahib Steek (1939),Guru Granth Darpan.