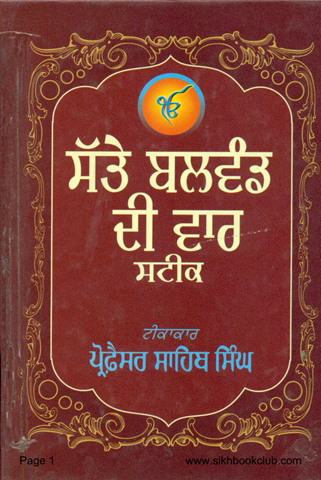 Satte Balwand Di Var Steek
Language : Punjabi
Total Download : 357
5
Share this Book.....
About Books
---
Part of a work which started in 1920's, Prof. Sahib Singh managed to finish writing interpretations of all 22 Vaar inscribed in Guru Granth Sahib only in the 1940s. Satte Balwand Di Vaar is part of older Punjabi literary traditions of singing illustrations of valorous warriors in battlefield. The word 'Vaar' signifies this style of verse writing, and has been borrowed from Sanskrit in its form.
Published in 1949, Satte Balwand Di Vaar Steek is a link in Prof Sahib Singh's work not only as an interpreter, but also as a historian and explorer, wherein he tries to establish the said Bani as authentic, and part of Guru Granth Sahib, offsetting propaganda by certain followers proclaiming some such works as against the principles of Sikhism.
About Author
---
Professor Sahib Singh  was a Sikh academic who made a contribution to Sikh literature. He was a grammarian ,author,scholar and theologian.Prof.Sahib Singh wrote extensively in Punjabi,but most of his works have now been translated into other prominent languages,His Literary works include Savaiye Sri Mukhvak Maihla 5 ate Bhatta De Savaiye Steek (1930),Jap Ji Sahib Steek (1931) ,Asa Di Vaar Steek (1933),Sukhmani Sahib Steek (1939),Guru Granth Darpan.