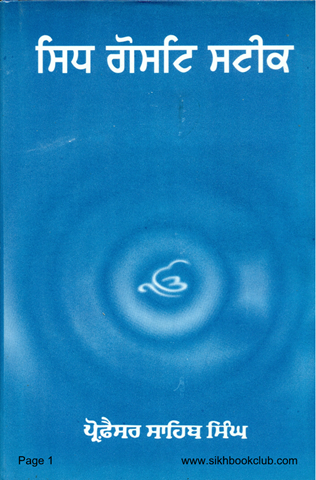 Sidh Gosht Steek
Language : Punjabi
Total Download : 1494
Share this Book.....
About Books
---
A work which started in 1940's to be made a part of a Gurbani Conference, of which Prof Sahib Singh was a part; 'Sidh Gosht Steek' took almost a decade to come to life. After several hiccups, revisits and additions, the book was finally published in 1953.
Written by Guru Nanak Dev, Sidh Gosht renounces the very idea of renunciation, as largely understood, portraying the acts of going to jungles, and renouncing the needs of the body as mere stunts. In his inimical style, Guru Nanak Dev opines that the true renunciation lies in self less love towards God, which alone has the power to free us from the shackles of this material world. Read it t sikhbookclub.com.
About Author
---
Professor Sahib Singh  was a Sikh academic who made a contribution to Sikh literature. He was a grammarian ,author,scholar and theologian.Prof.Sahib Singh wrote extensively in Punjabi,but most of his works have now been translated into other prominent languages,His Literary works include Savaiye Sri Mukhvak Maihla 5 ate Bhatta De Savaiye Steek (1930),Jap Ji Sahib Steek (1931) ,Asa Di Vaar Steek (1933),Sukhmani Sahib Steek (1939),Guru Granth Darpan.