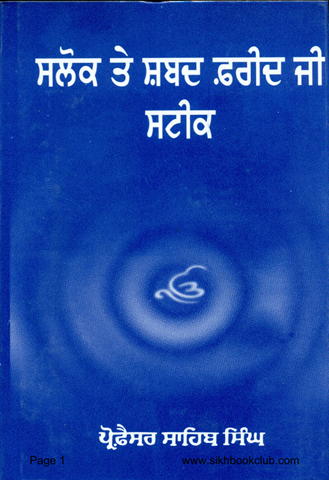 Slok Te Shabad Farid Ji Steek
Language : Punjabi
Total Download : 979
Share this Book.....
About Books
---
Though written in 1942, publication of Slok Te Shabad Farid Ji Steek was held back by Prof Sahib Singh, as he intended to bring it out as part of his cumulated Bhagat Bani series, which he finished writing in 1945. But the increasing socio-economic tensions of the pre-partition years ultimately propelled him to publish it in its singular form.
As has been the case with hymns of other Bhagat (devotees), Baba Fareed's Bani too has been a subject of speculation for a long time. But putting such doubts to rest, Prof Sahib Singh emphatically states that Baba Fareed's Bani has one singular philosophical thread, that of life of piety, and devotion towards the Beloved, running through it. If seen through a discerning eye, Baba Fareed's hymns and verses lighten the path towards the attainment of the Beloved.
About Author
---
Professor Sahib Singh  was a Sikh academic who made a contribution to Sikh literature. He was a grammarian ,author,scholar and theologian.Prof.Sahib Singh wrote extensively in Punjabi,but most of his works have now been translated into other prominent languages,His Literary works include Savaiye Sri Mukhvak Maihla 5 ate Bhatta De Savaiye Steek (1930),Jap Ji Sahib Steek (1931) ,Asa Di Vaar Steek (1933),Sukhmani Sahib Steek (1939),Guru Granth Darpan.