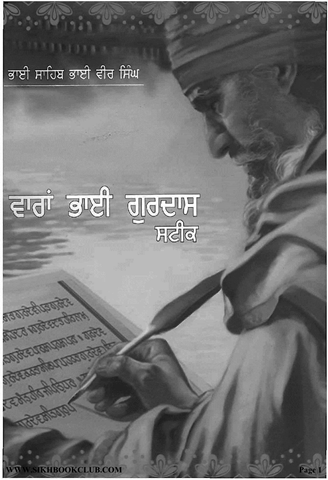 Varan Bhai Gurdas Steek
Language : Punjabi
Total Download : 1017
Share this Book.....
About Books
---
In this book, Giani Hazara Singh and Bhai Vir Singh combine their initiatives to make Bhai Gurdas Ji's Vaaran understandable to the readers again. Though written for its time in colloquial Punjabi by Bhai Gurdas, some of the words became obsolete with the evolution of Punjabi. This book was an attempt by these two great theologians of Punjabi literature to fill up. 'Vaaran Bhai Gurdas Ji' was first published in 1911. This is its 19th edition, which was published in 2007.
Vaar literally means ballads in terms of poetry, and the Bani is organized in the form of 40 chapters. Vaaran Bhai Gurdas contains the entire life elixir of Guru Granth Sahib, gaining for itself the the synonym of being a Key or a Guide to Guru Granth Sahib for the uninitiated ones by Guru Arjan Dev himself. Further, the chapters are again segregated in sections (Pauris), which help simplify the meanings of essential Sikh principles, as enshrined in Guru Granth Sahib.
Though renowned more for his masterful interpretation of Gurbani and Sikh literature, Bhai Gurdas's linguistic credentials were of great account. He possessed knowledge of Sankrit, Persian and Braj Bhasha, apart from Punjabi. His deep understanding of Gurbani was admired by Guru Arjan Dev himself, who used his trusted services as a scribe while compiling the Adi Granth. He wrote tediously under the dictation of Guru Arjan Dev for 19 years. That remains Bhai Gurdas's greatest contribution to Sikh Literature. Apart from this, he also supervised some other scribes like, Bhai Sant Das, Bhai Sukha, Bhai Manasa Ram, and Bhai Haria, thus enriching many other Sikh Scriptures through them.
His gift of expression as a poet was immense, which reflects in all his creations including Kabit Sawaiyye, but Vaaran Bhai Gurdas are still regarded as his most famous compositions. In the words of Bhai Kahan Singh Nabha, "...this Bani presents a form of exegesis of Gurbani."
About Author
---
Bhai Vir Singh is regarded as the founder and creator of Punjabi Literature and was a revered writer and poet known for his spiritual literary work in particular. He was born into a Sikh traditional family on 5th December 1872 in Amritsar. His creative works involve the "Shri Guru Nanak Chamatkar" depicting the influence of Guru Nanak Devji in ordinary people's lives. He reoriented the Sikh faith and assimilated different modernizing influences and made it go in unity with the Sikh rich history and cultural heritage. His Literary geniuses include, Shri Guru Kalgidhar Chamatkar, Bijay Singh and Satwant Kaur. One can also look into his historical collections with books like Sri Guru Nanak Chamatkar and Sri Asht Guroo Chamatkar etc. His later contributions do not need any introduction as he wrote several books on Gurbani, the lives of the Sikh Gurus and other religious figures. He made an impression with books like Subhagji da Sudhar Hathin Baba Naudh Singh, popularly known as Baba Naudh Singh. His short poems include books like Dil Tarang (1920), Tarel Tupke (1921), Lahiran de Har (1921), Matak Hulare (1922), Bijlian de Har (1927) and Mere Sayian Jio (1953). This then showed the way and led to the emergence of Punjabi poetry. His creative work and poetry made him so popular that he was declared as Bhai, the brother of the Sikh order, very early in his career for his true contribution in spreading Sikhism.