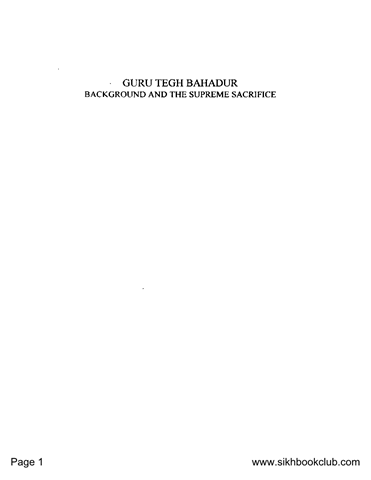 Guru Tegh Bahadur Background And Supreme Sacrifice
Language : English
Total Download : 207
Share this Book.....
About Books
---
Guru Tegh Bahadur's achievement in history and the inspiration ofspiritual experience provided by his teachings.Guru Tegh Bahadur's personality, whose earlier direction had been overwhelmingly towards meditation and devotional exercises.
About Author
---
Gurbachan Singh Talib (1911-1986), scholar, author and teacher, famous for his command of the English language. He was master equally of the written as well as of the spoken word. He was a prolific writer both in English and Punjabi,though he knew Persian and Urdu very well.His best books in Punjabi are Anpachhate Rah(1952),Adhunik Punjabi Sahit (1955),Paviter Jiwan Kathavan (1971), The Impact of Guru Cobind Singh on Indian Society (1966), Guru Nanak: His Personality and Vision (1969), Bhai Vir Singh: Life, Times and Works (1973); Baba Sheikh Farid (1974); Guru Tegh Bahadur: Background and Supreme Sacrifice (1976) Japuji: The immortal Prayer-chant (1977); and his classical translation in English of the Adi Guru Granth (Four Volumes).